By
HO Chi-Ping Patrick
Chinese President Xi received California Governor Gavin Newsom at the Great Hall of the People in Beijing China on October 25, 2023, an honor which no other top level US official who had visited China recently was able to be graced. Newsom also held talks with top diplomat Wang Yi as part of climate-focused tour that has sparked controversy back home in the USA.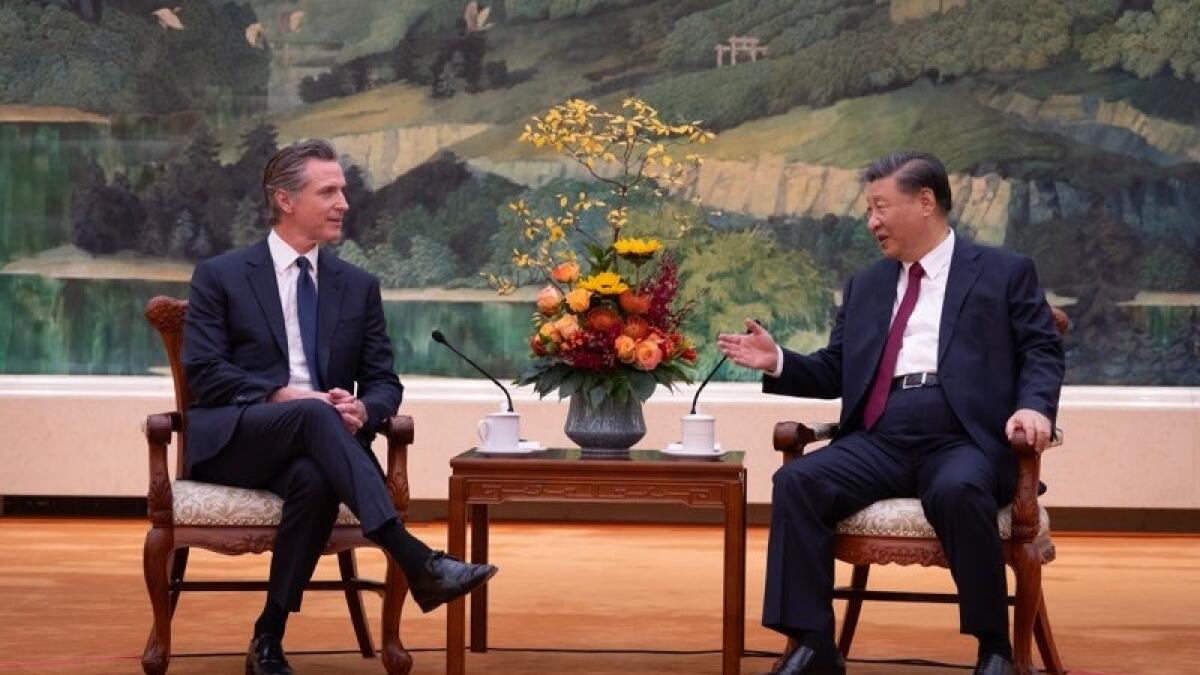 Image Source: Internet 
Since climate change, a somewhat stale subject to behold, can no longer be the most instrumental bonding factor in US-China relations, other bonding factors are needed. China and the US need to look for new common ground to renew their relationship. In other words, we need some new "glue". The rest of the world was all pondering in what global issues that President Xi and Gavin would strike a common interest.
Lessons from Deng Xiaoping
 China is the largest developing country. In fact, many of its coastal cities are very developed with high living standards, but the larger portion of the country still remains to be developing. The Chinese market consists of some very mature elements along the coastal cities, and also, for the larger part, is still rudimentary in their developmental stages when one looks inland.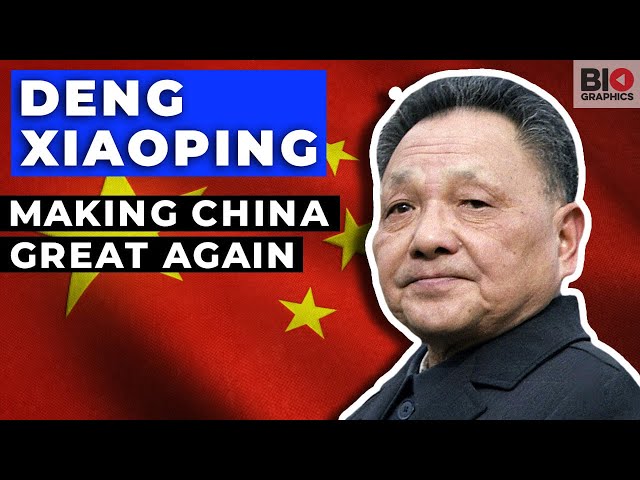 Image Source: Internet 
For example, Shanghai's GDP per person is as high as Saudi Arabia's (at purchasing-power parity), though still well below that in China's special administrative regions, Hong Kong and Macau. At the other extreme, the poorest province, Guizhou, has an income per head close to that of Azerbaijan.China is so vast and diverse that any one-size-to-fit-all policy is never practicable.
The primary effort of the Chinese Government in the past decades and also of the next decade will be primarily focused on evening out the development and income gap among different parts of China and to bring every one of its 1.4 billion people up to the standard of relatively well-off society.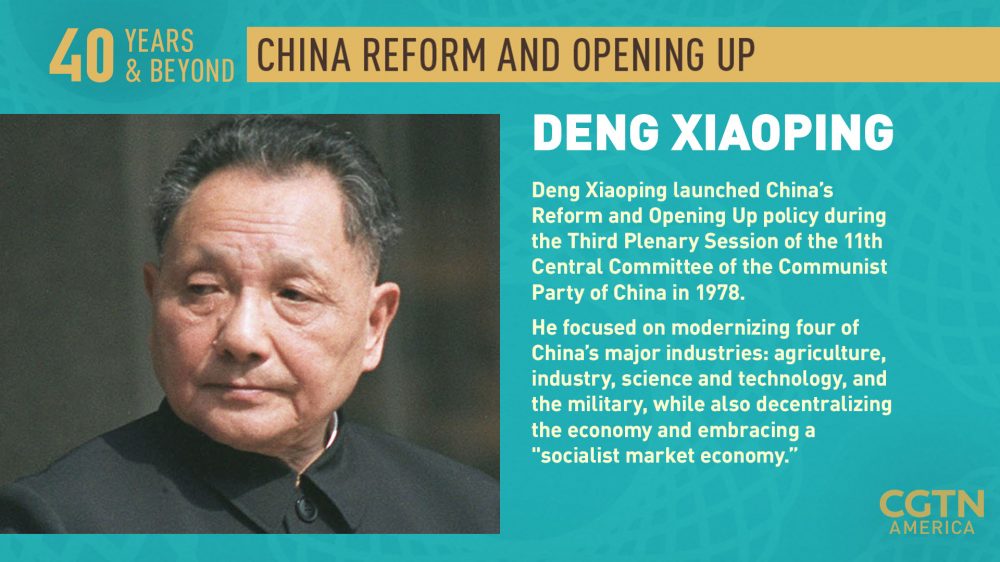 Image Source: Internet 
There may be some lessons we can take from Chinese leader Deng Xiaoping. To implement the reform and opening-up policy, four special economic zones, including in Shenzhen and Zhuhai, were set up around 1980. Deng gave the zones special policies and flexible measures to attract foreign and domestic firms and investments. These policies also acted as a firewall, preventing risks and repercussions which might occur during such experimentation, when they did arise, from spreading across the entire country. Any success reaped in these special zones can then be duplicated and adapted to be used in the hinterlands.
It proved a great success; the reform experiences of these economic zones have been gradually extended to all parts of the country.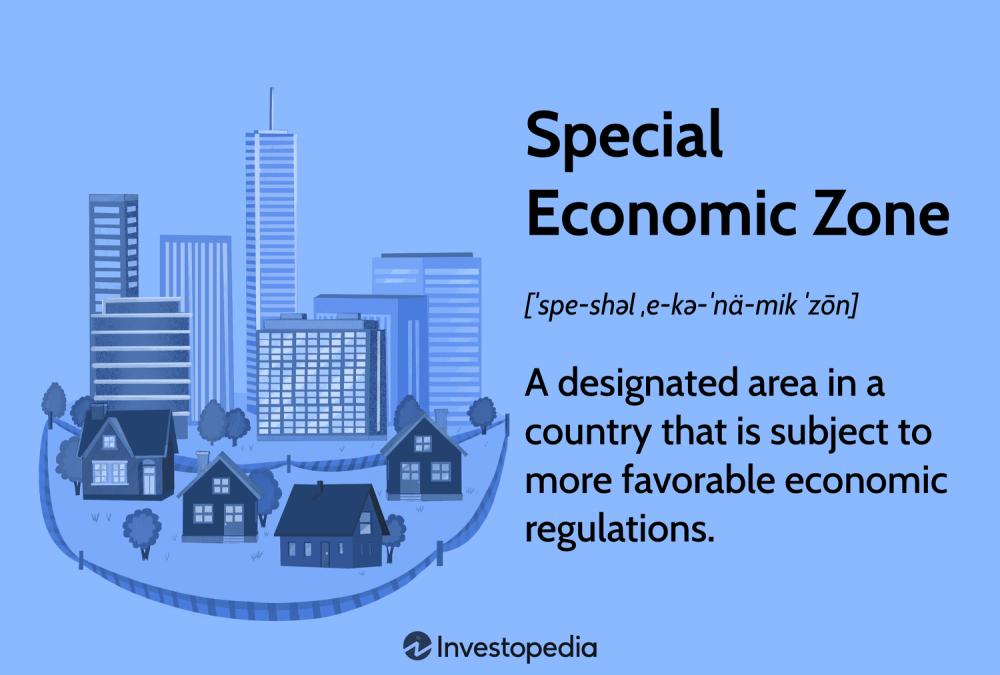 Image Source: Internet 
Today, China and USA are at loggerheads over almost every global issue. Coming out of this maelstrom calls for some thinking out of the box. Instead of working within the geopolitical paradigm of a nation state, could we not adopt the geo-economic approach on a regional and local level? For instance, China and the US could each set up special zones for cooperation within each other's borders. Each zone would have more authority and flexibility in formulating its economic policy, domestic regulations, information circulation, enterprise registration and banking services, and reaching trade and economic agreements with other zones. Bilateral ties could be customized to suit both parties. At the same time, any risk could be ringfenced and confined to these areas.
Greater Bay Area Development Plan Roll Out
For such a pilot program, there are no better places than the "Big Bay Areas", that is, the highly developed city clusters with sophisticated division of labor representing complete industrial chains, and synergistic economic benefits. There are three well-recognized "Big Bay Areas" city clusters in the world, the Tokyo Bay Area, the New York Bay Area and the San Francisco Bay Area. The newcomer, the southern China bay area, encompassing Guangdong, Macau and Hong Kong, is a fourth.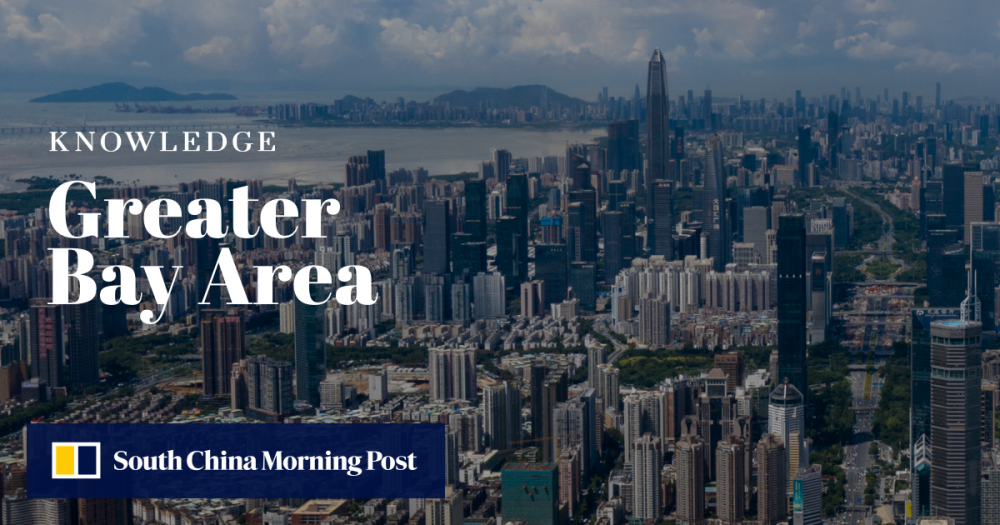 Image Source: Internet 
On 5 March, 2017, then Premier Li Keqiang expressed the need to promote closer cooperation between China mainland, Hong Kong and Macau, and to draw up a development plan for a city cluster in the Guangdong-Hong Kong-Macau Bay Area (Great Bay Area: or GBA).
Witnessed by President Xi Jinping, the Hong Kong Special Administrative Region Government, the Guangdong Province Government and the Macau Special Administrative Region Government signed the "Framework Agreement on Deepening Guangdong-Hong Kong-Macau Cooperation in the Development of the Bay Area" (GBA Framework Agreement) in Hong Kong, which became effective from 1 July 2017.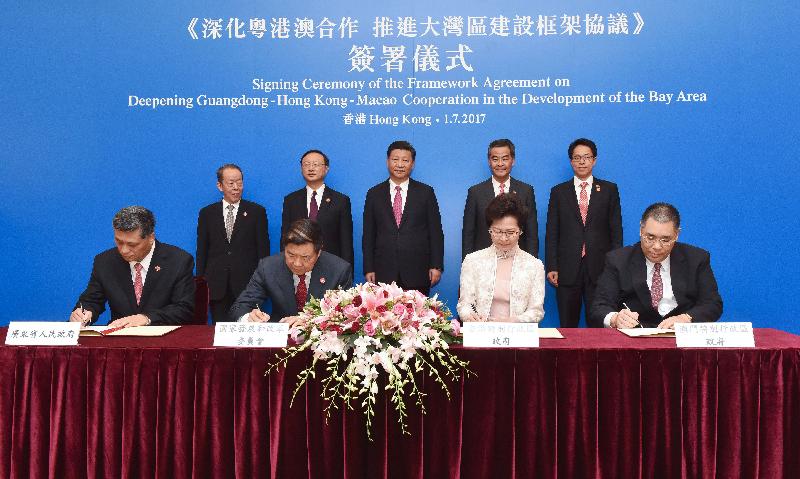 Image Source: Internet 
The San Francisco Bay Area includes not just San Francisco town, which is the political and financial center, but also Oakland, an industrial base; San José and Silicon Valley, which are home to many of the world's largest hi-tech corporations; and the North Bay, a beautiful area extending into the state's wine country. Then look at the New York Bay Area on the East Coast. Manhattan is a global financial center, while its neighbors Queens and Brooklyn are well known for their manufacturing and printing industry.
Greater Bay Area is China's economic powerhouse
In China, the Guangdong-Hong Kong-Macau Greater Bay Area (GBA), which consists of nine cities in Guangdong, including two special economic zones, and the two special administrative regions of Hong Kong and Macau, with total size of 56,000sq km and total GDP of US$1.64 Trillion in 2018.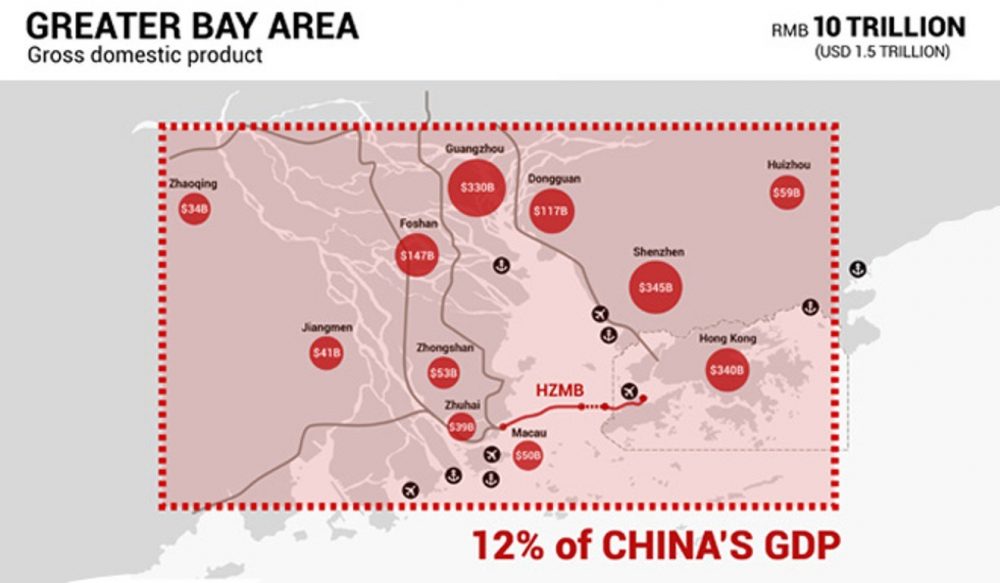 Image Source: Internet 
GBA is among the leaders in China in terms of administrative flexibility and economic competitiveness. With less than 1% of China's total area and less than 5% of the population (71.2 million), the GBA generated 12% of China's GDP in 2018.
The Greater Bay Area is a prime candidate for city cluster development because it already has good integration across the region with concentrations of economically robust industries.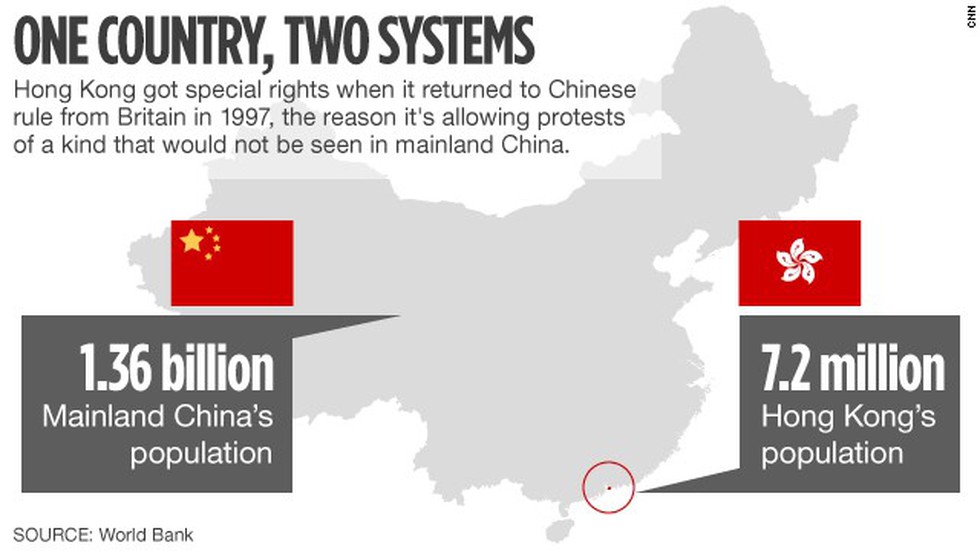 Image Source: Internet 
Furthermore, GBA is highly market oriented and has unique advantages from "One country, two systems" policy. Guangdong, a pioneer for reform and opening up, has a long history of foreign investment. It is also one of the starting points of the new Maritime Silk Road. More importantly, each city has its own strengths and they complement one another. Hong Kong is an international financial hub. Macau has many world-class hotels and leisure facilities. Guangzhou, full of historical legacies, is the political and cultural center in southern China. Shenzhen is famous for its hi-tech industries. And all these cities are linked by a modern road and rail network to create a collection of communities that are accessible within an hour of each other.
Unique advantages of Greater Bay Area

Image Source: Internet 
World-class trading region: the GBA is equivalent to the third-largest trading economy in the world, outranked only by the US and Germany. There are three Free Trade Zones (FTZ)–Qianhai in Shenzhen, Nansha in Guangzhou and Hengqin in Zhuhai–located in the GBA.
Transportation and logistics hub: the GBA is also a major logistics hub, home to five international airports and three world-leading sea ports. In terms of container throughput, Shenzhen, Hong Kong and Guangzhou ports ranked third, fifth and seventh globally in 2016, respectively. In addition, Hong Kong International Airport continued to rank first in the world in terms of air cargo throughput in 2016.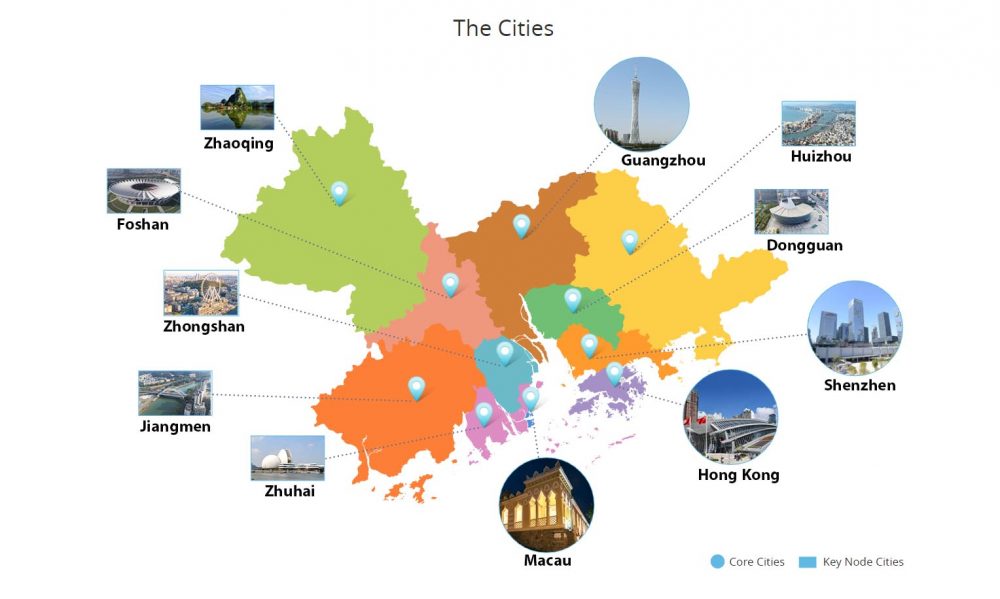 Image Source: Internet 
Hi-tech industries and technology: the GBA also leads other major city clusters in innovation. In 2016, the ownership of invention patent applications per 1,000 people was 2.4. Specifically, Shenzhen, a city situated directly north of Hong Kong, spends more than 4% of its GDP on R&D and accounted for nearly half of all international patents filed in mainland China in 2016.
A world-class bay area in the making
The advanced bay areas in world, including Tokyo Bay Area, San Francisco Bay Area and New York Bay Area, are all key economic drivers in their respective countries. We believe the GBA has the prerequisites to become one of the world's top-level Bay Areas.
Image Source: Internet 
The GBA is the largest in terms of population and area size, while its total GDP is more or less on par with the other bay areas. In 2018, GBA had a total GDP of US$1,64bn, which is 68.4% of that for the Tokyo Bay area, similar to New York Bay Area's and 186% of San Francisco Bay Area's. In 2016, GBA had total export and import trading volume of US$189mn, similar to the Tokyo Bay Area. GBA has one of the largest harbors and airports in the world. GBA delivered over 65mn containers in 2015, which is 8.5 times of that in Tokyo Bay area and 37.5 times of that in San Francisco Bay Area. GBA transported 150mn people through airport in 2015, which is more than the top-3 bay areas in the world.
According to research done by Bank of American, the nominal GDP of GBA is estimated to grow 8% during 2017-30, and expect GBA to overtake Tokyo Bay to become the world's largest bay area economy in 2021. By 2030, the forecast shows the GBA economy will likely triple in size, and exceed the size of the German economy (as of 2015).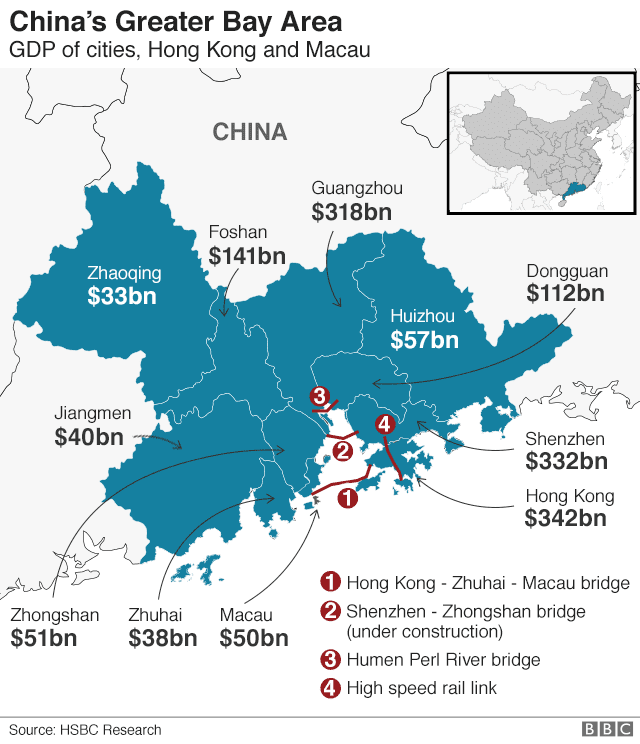 Image Source: Internet 
In other words, the Greater Bay Area is the fastest-growing city cluster in China. It has the potential to become a pioneer in a China-US regional cooperation project.
A Proposal of Collaboration among the Greater Bay Areas
 I had addressed the issue as early as in 2004, when I was the Secretary of Home Affairs of Hong Kong and speaking in the Second Asia Cultural Cooperation Forum in Hong Kong: "In the 21st century, competition is no longer one between country and country. Cities have become the dominant players.  Except for those with substantial population and geographical areas, a single city alone is seldom sufficient to compete on its own.  Alliance is called for.  A cluster of cities with similar strength in economic and cultural terms is the answer to this challenge."
 I would like to propose that the Guangdong Greater Bay Area in China and the Greater Bay Areas of San Francisco, forge an alliance of city clusters for trade and development to motivate global economic growth by spearheading globalization of a higher dimension.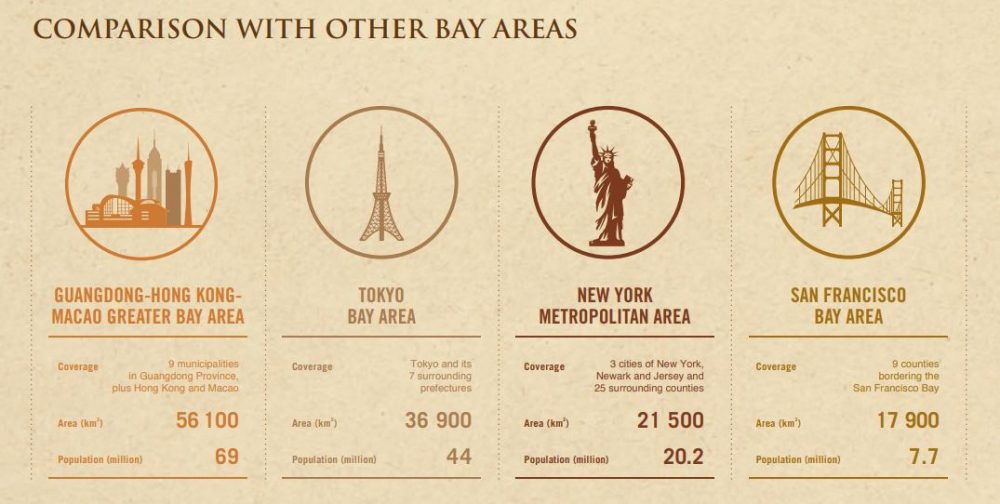 Image Source: Internet 
These Great Bay Areas, being on par with one another, are the most sophisticated and represent state-of-the-art research and development in many fields underpinning social and economic growth and prosperity, and can be very effective in driving innovative development and providing leadership for supporting growth in the hinterlands.
Instead of formulating broad stroke trade policies to involve the entire country, China can ring-fence the cooperation of sophisticated sectors and trades to involve only the Greater Bay Area at the beginning. Such could include the liberalization of the financing and banking sector. Any successful experience can then be adapted to suit the pace and situation of the areas outside and beyond the GBA.
Towards a Broader US-China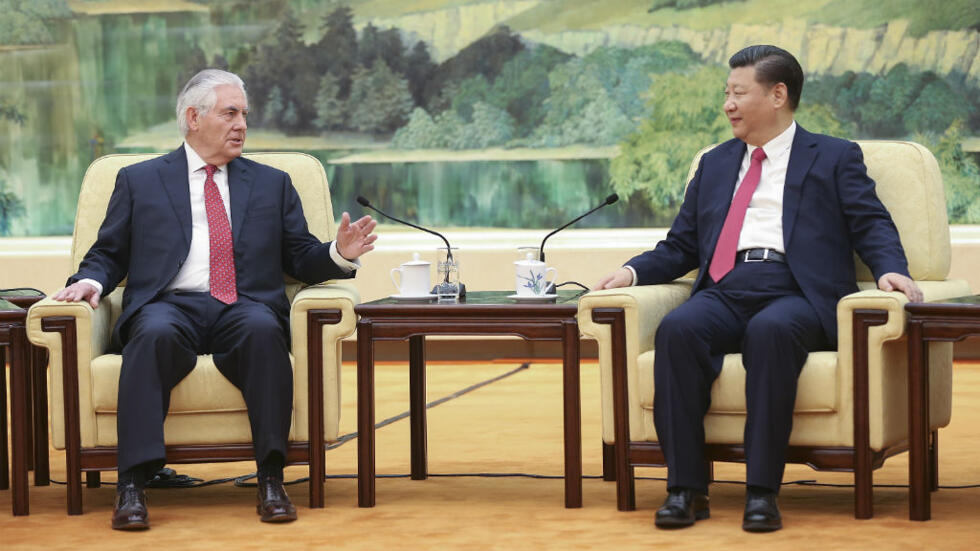 Image Source: Internet 
During his first visit to China in 2017, US Former Secretary of State Rex Tillerson said "the US-China relationship has been guided by an understanding of non-conflict, non-confrontation, mutual respect, and win-win cooperation". Tillerson was the first US secretary of state who openly reaffirmed President Xi's proposal of a "new type of major power relations". He also acknowledged the importance of working on a long-term commitment to chart the course of the development of US-China relations.
More than 5 years had passed, and Tillerson was still right. It is time to relinquish the zero-sum game mentality and work on farsighted and mutually beneficial strategic projects. A China-US Big Bay Area cooperation plan, designed to formulate a symbiotic relationship between China's GBA and San Francisco Bay Area in the USA, will be a very good place to start putting this most important international relationship back onto the right path, a path of peaceful coexistence.
(This paper was abridged from a speech to be delivered by the author at the Sino-US Colloquium (XII) organized by the China Energy Fund Committee at the National Press Club, in Washington, DC, USA, on November 20, 2017)
---
Edited by Fang Fang
Proofread by Wang Yan